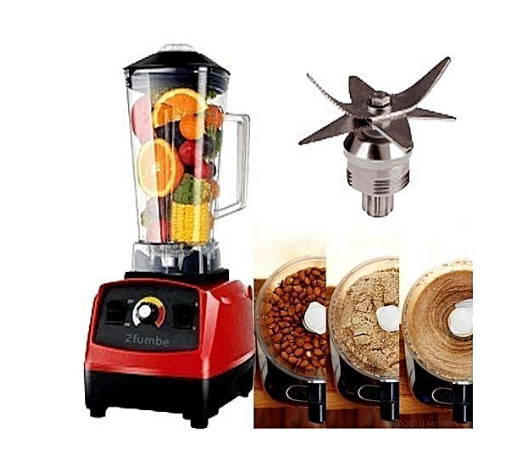 Multipurpose Electric Blender
This is why Every home deserves a personal blender
Using public grinders is one of the cheapest ways to get a disease and endanger the health of your family .
Imagine if someone with COVID after touching their tomatoes or onions and goes to the public grinder to blend it and yours the next in line.
Public grinders are maintained poorly, they wash it poorly, the environment where the grinding takes place is completely unfit for food to be processed. Worst of is when they want to oily the machine, it's usually done with grease and no real care is taken to clean the grease out from the machine so while they are grinding your food, they are also adding grease inside the food for your family.
All these things are reasons why cancer is on the rise (it wasn't this popular before) but humans are now taking chemicals and that is bringing cancer.
God is the one saving us in the country but it's better to be safe than sorry!
This powerful blender will eliminate every need of to going to public grinders and you can safeguard the health of your family!
Dry Blending: This powerful blender can grind any dry stuff from your beans, coconut, crayfish, cassava to make cassava flour, Egusi to bottles, phones etc. Yes! It's that powerful.
Wet Blending- At the same time, this blender can also wet blend stuff, tomatoes, pepper, fruits etc. Hence, you have absolutely no reason to use public grinders.
Flexibility- The multipurpose blender has a regulator like that of a pressing iron that allows you to regulate how the blender blends. You can increase it to the highest to get super fine or super blended stuff or you can reduce it is you need something not too blended.
Healthwise - You can avoid using dirty and unkempt public grinders that only serve as a joint for sharing diseases and keep your family safe for life
Make Healthy Smoothies for your family- Diseases are rampant in today's world because most of the thing we eat are artificial. Our parents didn't encounter these diseases because they majorly ate natural stuff. Our kids are now addicted to sugary stuff: coke, ice cream etc let's replace that with fruit smoothies and ensure they get a healthy future.
The timer is going down. Order Now, it's payment on delivery with free delivery