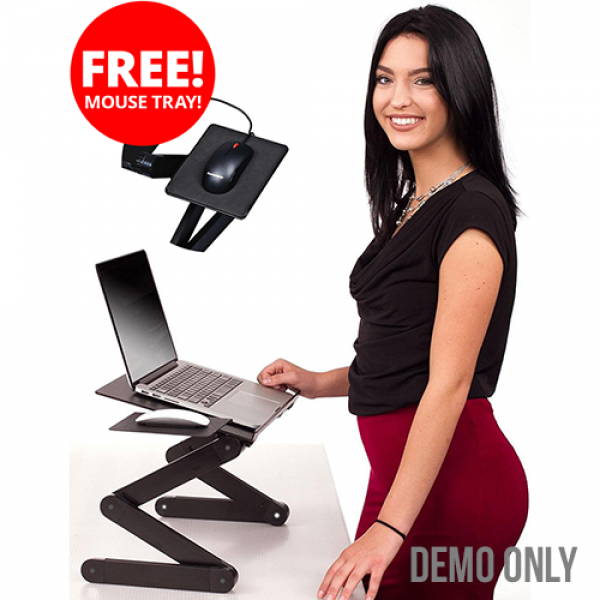 Adjustable Ergonomic Laptop Stand
Discount ends once the timer hits zero. We just have 10 pieces left and it takes time to get more due to the pandemic! So, click the above link and order NOW!
If you don't want to be like this guy then you need this!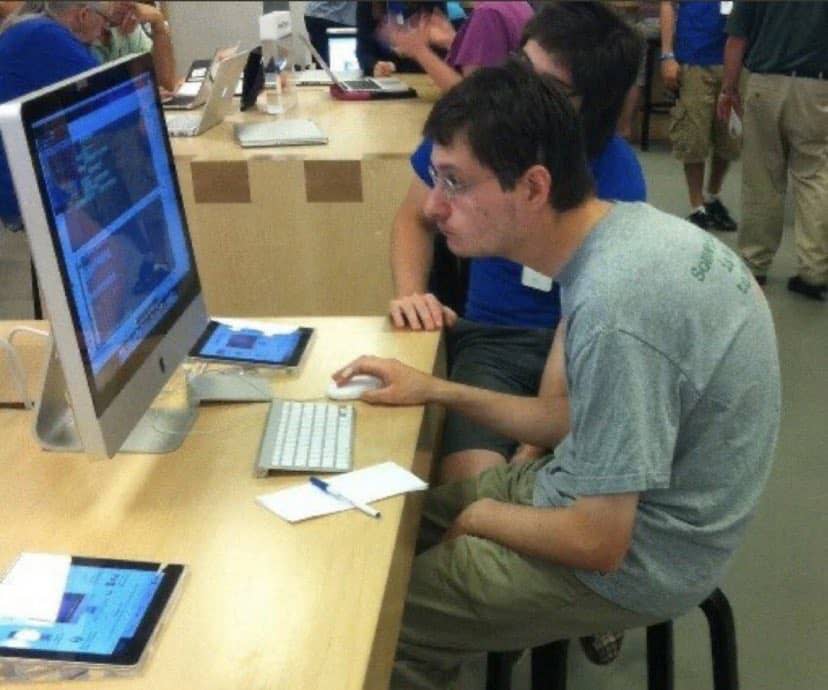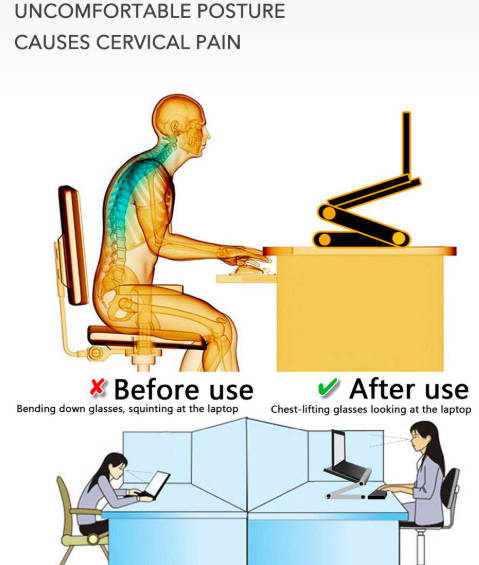 Poor posture forces you to overwork the muscles in your neck and back. Your immune system's efforts to heal those muscles spur inflammation that — over time — leads to arthritis in nearby joints.
Arthritis is a terrible diseases accompanied with excruciating pain that can only be treated with very costly meds. This is a MUST HAVE unless you want to spend your old age bound in one place, always tormented by joy-sucking pain, a burden to your loved ones and being unable to enjoy the fruits of your labour.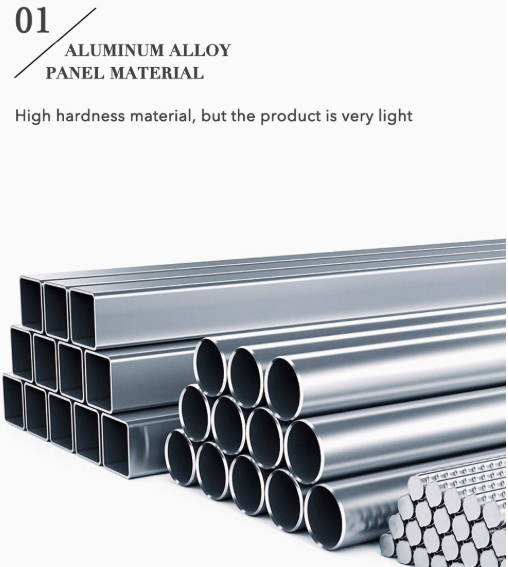 Strong Build - Made from Aluminum-Magnesium-Alloy, this desk was built to last and can withstand impact from travels.
Light Weight & Portable - Despite being made to be sturdy and strong, it was build with the customer in mind and made very light so it's easy for travel and can fit into most travel bags.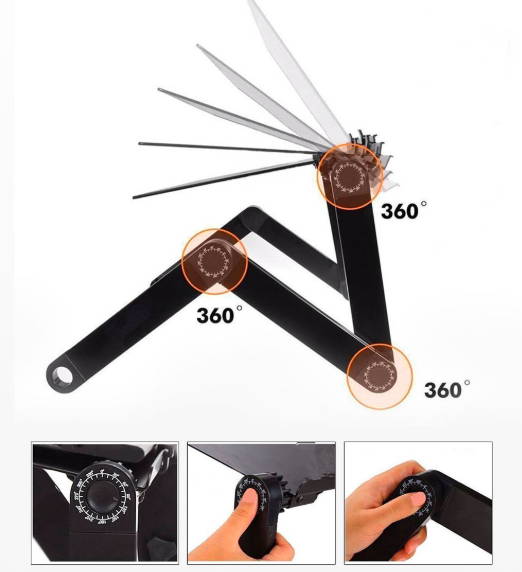 360 Rotating Joint- The two legs have 3 knobs which can adjust and lock in any height or angle you need. To adjust to different angle/height just push the knob and release when you're done. This allows you the flexibility to work from and angle/posture best suited for you at the moment.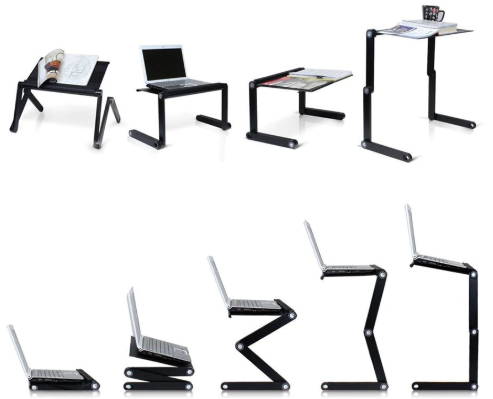 Super Flexibility: Can adjust to various height and angles needed. Also comes with a grip that can keep the laptop from falling despite the position placed ensuring super flexibility.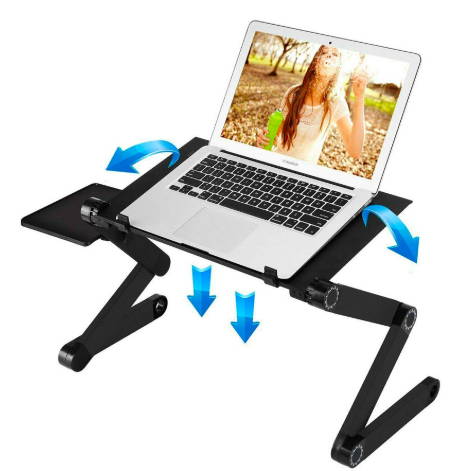 Large Cooling Fan - Comes with ventilation holes and a cooling fan which acts to dissipate the uncomfortable heat emitted from the laptop providing a good working condition for you. This stuff was built with YOU in mind!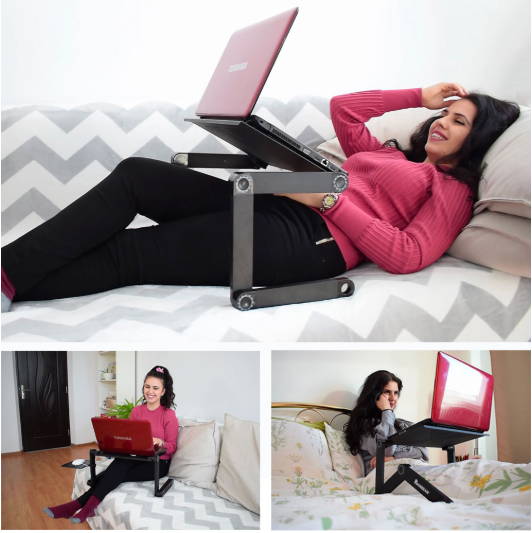 Multi-functional - It can serve as computer desk, writing desk, sketchpad, board, dining table, Standing Desk, Book Tray, Writing Desk, Tablet Holder, Stand-Up Desk, Gaming Table, Notebook Stand, Keyboard Lift, Laptop Tray, Keyboard Riser, Foldable Laptop Desk, Cooling Pad, Computer Stand for Laptop, Folding Tray Table, Standing Desk Converter, Laptop Base, Ergonomic Laptop Riser, Desk Raiser etc. It can be used while on the bed, sofa, use as a standing desk, full-size sitting desk, etc. Work anywhere!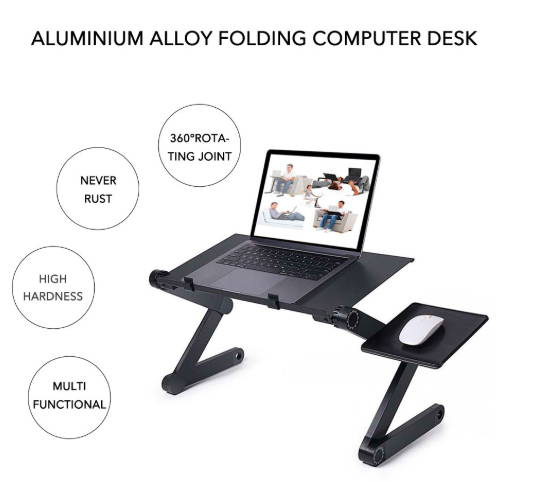 Free Mouse Panel - You'll get a free mouse panel for keeping your mouse or any other necessary item if you order from us together with the ₦7,000 discount (if it's still available). Check Below and Quickly order!
Great product, as described. Lightweight and easily mobile - this is everything I needed in a portable laptop stand. Now I can have zoom meetings with my laptop in bed.
Akin, Ajah.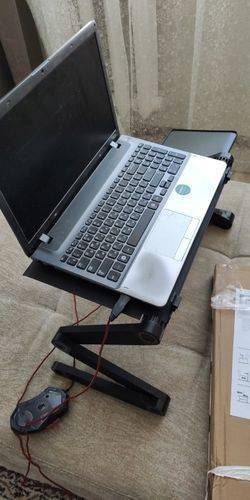 I was afraid, my laptop would be bigger than this but it turned out just fine. Best value for money. Totally recommend.
Ebuka, Lekki
Easy to set up and adjust to where I want my laptop to be. The mouse plate is now a handy coffee holder (LOL)
Jane, VI
Was concerned about how strong it is since my laptop is very heavy but it turned out to be as strong and light as they say.
Ada, Surulere.